Class Of 1972
Shawnee Mission Northwest

High School

~ Shawnee, Kansas
In Memory
William Vick

William Wendell Vick
April 23, 1922 ~ September 18, 2016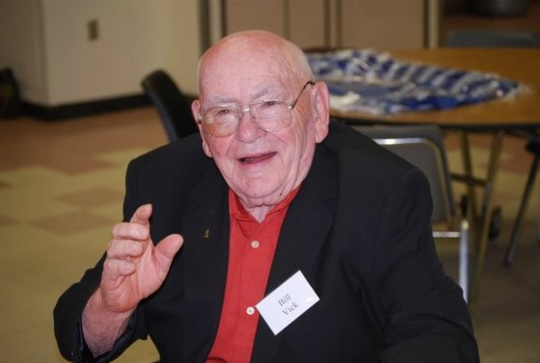 40th Faculty Reunion
May 2009
William "Bill" Wendell Vick, 94, of Springfield, Missouri passed away on September 18, 2016 at Mercy Hospital in Springfield. He lost his longtime battle with Alzheimer's. He left an unmatched legacy behind, a well-known educator in the Shawnee Mission School District. Bill is survived by his wife Shirley and daughter, Crystal. Cremation and interment at the Missouri Veterans Cemetery, Springfield, Missouri.
The moment that you left me.
My heart was filled with memories; the other side
died with you.
I often lay awake at night when
the world is fast asleep;
and take a walk down memory
lane with tears upon my cheek.
Remembering you is easy.
I do it everyday;
but missing you is a heartache
that never goes away.
I hold you tightly within my heart
and there you will remain;
you see, life has gone on
without you, but will never be
the same.
BlairRobertson.com

At Crystal's request, you may send your cards to Mrs. Shirley Vick, 1414 W Englewood, Springfield, MO. 65807.
If you knew Bill and would like to place a kind memory here, please follow the instructions on this page (click on "post comment").


Mac McDaniel and Jan Klein, Site Administrators