Class Of 1972
Shawnee Mission Northwest

High School

~ Shawnee, Kansas
In Memory
Roxy Yowell

Roxy Ann Yowell
March 25, 1932 ~ August 17, 2016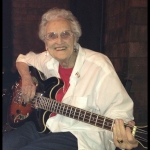 Roxy Ann Yowell started on her final trip on August 17, 2016. Her destination will be Heaven to join her family who preceded her: parents, Ovid and Zillah; brothers and sisters, Nancy Lee, Marilyn, Jim, Jack and Jerry; nephews, Bob, Jeff, Dale; and Mona too. It will be a glorious reunion.
During her sojourn here on Earth, she was privileged to teach Spanish and French for 40 years in Oberlin, KS, the Barstow School, the old Prairie District and Shawnee Mission Northwest. During those years, she was fortunate to serve as President of NEA-Shawnee Mission as well as serving on the Kansas-NEA Board. She was also privileged to be choir director and soloist at the Shawnee Boulevard Christian Church and Grandview Christian Church. She was the soloist at the First Presbyterian Church. All of the churches she served were in Kansas City, KS. She was a member of Heritage United Methodist Church in Overland Park.
Roxy loved to travel and is ready to take this trip alone, even though she leaves behind her wonderful nephews and nieces, cousins, whom she enjoyed visiting and a host of the best friends a person could have. In her final days, Roxy asked us to express her thanks to all those who have been so kind to her throughout her illness. A celebration of her life will be 11:00 a.m. Saturday, September 3 at Heritage United Methodist Church, 12850 Quivira Rd, Overland Park, KS. Private inurnment will be at Mt. Washington Cemetery in Independence, MO. In lieu of flowers, the family suggests contributions to Heritage United Methodist Church or Grace Hospice.
Porter Funeral Home
If you knew Roxy and would like to place a kind memory here, please follow the instructions on this page (click on "post comment").


Mac McDaniel and Jan Klein, Site Administrators