Class Of 1972
Shawnee Mission Northwest

High School

~ Shawnee, Kansas
In Memory
Patrice (Pat) Creed (Kay)

Patrice D. Creed Kay
May 30, 1954 ~ July 27, 2015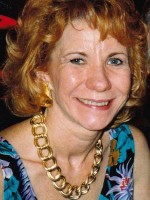 It is with a sad heart that friends and family bid farewell to Patrice D. (Creed) Kay, 61, of Olathe, KS after her sudden passing on July 27th at KU Med Center. Born May 30, 1954 to Betty (Boyd) and Edward Creed, she was a native of Shawnee, Kansas and a 1972 graduate of Shawnee Mission Northwest. She attended the University of Kansas until her graduation in 1977.
Patrice joined the re-insurance firm of ERC, later Swiss-Re, in August of 1983 and was a dedicated claims specialist. She was valued for the expertise acquired over 32 years of service. She is remembered for being ever positive and cheerful, and is deeply missed at the Overland Park facility.
Patrice's circle of friends include a core of high school art service club members affectionately known as the Creative Cougars, after the school's mascot. Her laser wit was enjoyed and appreciated and will be so missed. The endurance of this group is a testimonial to her contribution to their timeless bond.
Patrice is survived by her devoted husband, William D. McKown, PhD of the home. Bill married Patti, the love of his life, in a touching ceremony on January 7th, 2011. It is certain that she felt the same about Bill. During their time together, which was entirely too short, they enjoyed traveling and cruising together. Although Patrice's parents preceded her in death, she leaves her sister Sandra Kennedy and husband Allen, a niece Shannon and a nephew Aaron all of Shawnee.
Celebration of Life Services
A Celebration of Life is being planned for later this summer and will certainly be well attended. Please continue to check back for updated service information.
Memorial Contributions
For friends who wish to make a gift in her memory it is suggested to make it to her favorite cause, SAFEHOME, at www.safehome-ks.org.
Published in Kansas City Star on August 1, 2015
If you knew Pat and would like to place a kind memory here, please follow the instructions on this page (click on "post comment").


Mac McDaniel and Jan Klein, Site Administrators