Class Of 1972
Shawnee Mission Northwest

High School

~ Shawnee, Kansas
In Memory
John Russell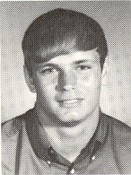 John Michael Russell
January 20, 1954 ~ August 10, 2009
We received sad news from several classmates that John Russell passed away about 5:00 p.m. on Monday, August 10, 2009. At this time, we have received information that services for John will be held Thursday, August 13, 2009. Visitation from 6:00-7:00 p.m. At 7 p.m. there will be a sharing of memories. The services will be held at the Kansas Chapel of the Charter Funeral Homes (direct: 913-671-7222) at 10250 Shawnee Mission Parkway, S.M., Kansas 66203.
Our thoughts and prayers are with John, his family, his friends and with all that knew him. He will be greatly missed.
The obituary from Kansas City Star's August 12, 2009 edition is as follows:
John Russell, age 55, of Shawnee, Kan., passed away August 10, 2009, at the KC Hospice House. Visitation will be 6-7 p.m. Thursday, August 13, at Charter Funerals, 10250 Shawnee Mission Parkway, with a sharing of memories at 7 p.m. In lieu of flowers, contributions may be made to the American Diabetes Association. John was a graduate of Shawnee Mission Northwest High School in 1972 and lettered in football three of those years. He was employed by Coca Cola for over 25 years. Survivors include his father, Harold, stepmother Marilyn, brother Ron, four nephews, one niece, two great nephews and two great nieces. (Arr.: Charter Funerals, 816-921-5555.)
If you knew John and would like to place a kind memory here, please follow the instructions on this page (click on "post response").

Jan Klein and Mac McDaniel, Site Administrators
===========================
Below are listed some of the kind remembrances posted on Legacy.com including a special one from John's niece, Randi Russell:
August 13, 2009
John,
Hey trouble, I told you we would meet again. So sorry it was like this. You were my other half for a year...Oh the fun we had. I know we will meet again.

Randi
I hope you know how sorry I am for your loss. Lexi and I have both grown up in the past years. Thank you for sharing John with me.

==================================
August 13, 2009
I thought I might be the only one that would mention John's smile but guess that great smile touched lots of people. I went to Hocker and SMNW with John and I feel blessed to have known him and been in the same great class of 1972.
August 13, 2009
I had the privlege of working with John at Coca Cola; he was a kind hearted and all around sweet guy! He was one of the many drivers that made me want to come to work each day! My thoughts and prayers go out to his family. He will be truly missed.
August 13, 2009
My thoughts and prayers are with you.. John was a friend of mine and I will miss him dearly..
August 12, 2009
I am Randi, Johns niece. I would like to thank EVERYONE that over the years have been John's friend. I would especially like to thank those that were around John and our family for the last 4 years.
If you knew John well then you would know that those were the years that he fought the hardest. He is a survivor and my hero. No one that I have ever known has gone through the things that he had. He is and will always be close to me and my 2 kids. He is my uncle and will always be. I took care of him for the last 4 years and I got to know him as well as anyone.
I wish that I would have taken more time to know him better before these last 4 years. He was funny, loving, sincere and grateful to be alive. I hope that those who knew John will learn from him that life is worth living and that we should not take anything for granted.
I just want to thank everyone for helping and caring for my uncle and family for the last 4 years; I don't know what we would have done without all of you....Here is a poem I would like for all of you to have, the author is unknown.

I'm Still Here

Friend, please don't mourn for me
I'm still here, though you don't see.
I'm right by your side each and night and day
and within your heart I long to stay.

My body is gone but I'm always near
I'm everything you feel, see or hear.
My spirit is free, but I'll never depart
as long as you keep me alive in your heart.

I'll never wander out of your sight
I'm the brightest star on a summer night.
I'll never be beyond you reach
I'm the warm moist sand when you are at the beach.

I'm the colorful leaves when fall comes around
and the pure white snow that blankets the ground.
I'm the beautiful flowers of which you're so fond,
The clear cool water in a quiet pond.

I'm the first bright blossom you'll see in the spring,
The first warm raindrop that April will bring.
I'm the first ray of light when the sun starts to shine,
and you'll see that the face in the moon is mine.

When you start to thinking there's no one to love you,
you can talk to me through the Lord above you.
I'll whisper my answer through the leaves on the trees,
and you'll feel my presence in the soft summer breeze.

I'm the hot salty tears that flow when you weep
and the beautiful dreams that come while you'll sleep.
I'm the smile you see on a baby's face.
Just look for me, I'm everyplace!