Class Of 1972
Shawnee Mission Northwest

High School

~ Shawnee, Kansas
In Memory
Karen Pearson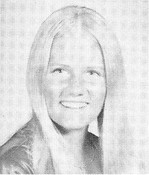 Karen Susan Pearson
February 3, 1955 ~ December 25, 2014
Karen Susan Pearson, 59, of Merriam, Kansas passed away Wednesday, December 25 at Olathe Medical Center. Karen was born February 3, 1955 to the late William and Mathilde Pearson in Kansas City, Kansas. She graduated from Shawnee Mission Northwest in 1972. Karen earned a degree as a Registered Nurse from St. Luke's School of Nursing and continued her education at the University of Kansas-School of Allied Health, where she received her certification as a Certified Registered Nurse Anesthetist. Karen worked for Olathe Medical Center for over 14 years. She loved to spend her free time traveling to exotic tropical locations and hosting pool parties and holiday celebrations for family and friends. Karen is preceded in death by her three brothers, Stanley, Paul David, Jimmy and a sister Barbara Pearson. She is survived by her son Nicholas Pearson, two brothers, Steven Pearson and wife Cindy; Bill Pearson and wife Kim; a sister, Christine Pearson and Jim Smith, 7 nephews and many dear friends.
Services
Visitation will be 6 p.m. to 8 p.m. Tuesday, December 30 at the Amos Family Funeral Home in Shawnee, a rosary will be prayed at 6 p.m. Mass of Christian Burial will be 10 a.m. Wednesday at St. Joseph Catholic Church with burial following in St. Joseph Cemetery in Shawnee.
Contributions
The family suggests memorial contributions to the Sister Servants of Mary; 800 N. 18th Street, Kansas City, KS 66102 or to Catholic Charities of Northeast Kansas, 9720 W. 87th St., Overland Park, KS 66212.
If you knew Karen and would like to place a kind memory here, please follow the instructions on this page (click on "post comment").


Mac McDaniel and Jan Klein, Site Administrators