Class Of 1972
Shawnee Mission Northwest

High School

~ Shawnee, Kansas
In Memory
Rick Kidd

Richard "Rick" Kidd
April 5, 1954 ~ June 22, 2015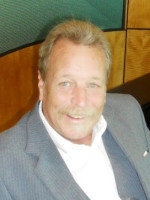 Richard "Rick" Kidd, 61, went to be with the Lord on June 22nd, 2015. He passed peacefully, surrounded by his family and friends.
Rick was born on April 5th, 1954 in Kansas City, Missouri to Dean and Norma Kidd. Rick spent the majority of his life in Shawnee, KS. He worked as a diesel mechanic at Max Rieke for twenty years. In his spare time Rick enjoyed spending time with his children, riding his motorcycle, boating, and restoring cars. In recent years he spent his time as a proud member of the Fraternal Order of Eagles in Merriam, KS.
Rick was preceded in death by his father Dean Bernard Kidd, and his mother Norma Ruth Kidd. He is survived by his daughters Crystal Lynn Kidd of Shawnee, KS, Karmon Kay Godsey and her spouse Matt Godsey of Kyle, TX, and his son Marshall Dean Kidd and his spouse Katie Kidd of Overland Park, KS. Rick is also survived by his three grandchildren Laney Sammons, Nolan Godsey, and Oliver Kidd along with many of his lifelong friends.
Services
Visitation will be held at 1:00 p.m. with services to follow at 2:00 p.m., Saturday, June 27th, at Amos Family Funeral Home, 10901 Johnson Dr. Shawnee, KS. Immediately after services a celebration of life will be held at the Fraternal Order of Eagles, 4726 Merriam Dr. Overland Park, KS.
Contributions
Memorial contributions may be made in person to the Fraternal Order of Eagles during the celebration of life.
Published in Kansas City Star on June 24, 2015
If you knew Rick and would like to place a kind memory here, please follow the instructions on this page (click on "post comment").


Mac McDaniel and Jan Klein, Site Administrators